OUR RANGE
Open-back clothing:
Our adaptive garments are designed with a cross-back feature. Folds on the back fall easily into place, without the need for fastening or clips, which could harm fragile skin.
Skin care product:
Our all natural, plant based and powerful skin care collectiona addresses  the unique everyday skin care needs of Australians in their homes and care facilities.
Care accessoires:
Our innovative range of textile and non-textile products promote dignity, inclusion and safety for everyday care support and lifestyle needs.
Satisfaction guaranteed:
If you don't like our products, you can simply return it for a complete refund 14 days after purchase. We pride ourselves on excellent customer service and outstanding quality.
We are honoured to have our product on display at Independent Living Centre SA. To find out more, visit www.ilcaustralia.org.au.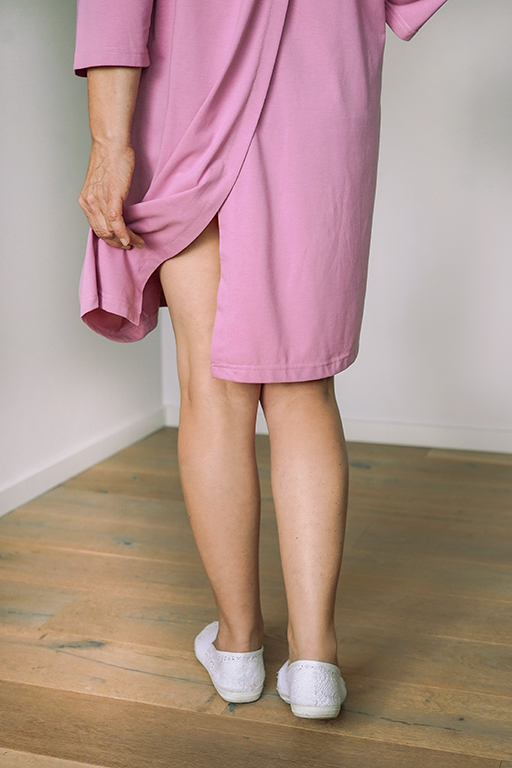 Special Features of sestra care garments
The unique cross-back design which includes a yoke and 2 cross over panels.  The yoke covers the shoulder blades and the attached cross over panels drop to provide closure to the back to the garment.  This protects our client dignity and provides them with a degree of independence in dressing themselves.  
Our sleeve width and length practical for accessing the arms and hands for care as well as medical treatment. The design protects the frail skin on the arms and elbows of clients.  
The fabrics that are used are breathable, light in weight, skin friendly, flexible with general stretch and wrinkle resistant. Our fabrics hold their colour and shape, dryer and industrial washing machines friendly.  
We have eliminated the need for any studs, buttons, Velcro or zips. Items that may cause skin and body injury's, and hard to maintain intact.  
We have chosen to print a label on the inside of the garment that can have their name written with a permanent marker for easy identification.  The families no longer need to order expensive tags that must be sewn on each new garment. 
Appropriate labelled garments prevent loss or misplacement of a clothing, having the clothing at the right place saves time and improves a dressing experience. 
Having access to these beautifully designed cross-back garments empowers individuals to maintain their independence and wellbeing.  
Our products are appropriate for or may be classified as:

▶ Senior

▶ Plus Size

▶ Elderly

▶ Disabled

▶ Health Care

▶ Adaptive

▶ Hospital Gowns

▶ Disability Clothing

▶ Nursing Home

▶ Home Care

▶ Elderly

▶ Open Back

▶ Health Care

▶ Patient Clothing

▶ Hospital Gowns

▶ Assisted Living

▶ Nursing Home

▶ Palliative Care
Our Sestra Care Skin Range
I am a lover of simplicity and nature. Growing up in the country our hygiene and skin care products were always a mix of natural ingredients we had at home and in the garden (e.g. Camomile, Honey, Aloe Vera, dairy products etc.)  My mum always used to say to us; 'You need to know what it is that you put on your skin. If you can't eat it, you probably shouldn't be using it'.
This has always stuck in my mind when choosing my skin care products. Not only for me but also for my family. I had to change my care products several times due to changes in climate, availability of products and a change in life circumstances and age but I always tried to go for natural.
Therefore the Sestra Care Solution Wellness Aid Collection is hand crafted in Australia, using all natural, vegan, cruelty free, organic and local ingredients. It is especially designed for sensitive, mature and compromised skin. Our best variety of powerful, natural, plant based key ingredients help to hydrate, strengthen and nurture all skin types.
Benefits:
▶ hydrates and nourishes dry skin
▶ promotes skin elasticity
▶ replenish and protects the skin natural balance
▶ helps to restore the protective barrier
▶ fights against redness, inflammation and itchy skin
▶ suitable for all skin types
OUR SESTRA CARE ACCESSOIRES
Our SESTRA CARE clothing protector
(Bibs for adults)
If you are caring for a person who needs assistance during mealtimes or has difficulty managing eating due to disability, frailty and other medical conditions, our clothing protector are the perfect choice.
Our SESTRA clothing protectors are designed to assist and enhance an individual's dining experience. They are keeping individual clothing clean, dry and shielded from unwanted dampness, spills, stains and odours. Our bibs with pocket snaps undone, can be worn layered with your upper clothing under or over a cardigan or simply over a shirt.
Each ​adult versatile bib​ comes with an inbuilt crumb catcher, designed to prevent any food elements to drop into your lap or onto the floor. The adaptable pocket design catches food but also enables a quick removal of leftovers by undoing the snaps.
Due to the design and material choice, it can be easily wiped clean or laundry washed.
Our waterproof food protectors feature a durable fabric construction, that make them leakproof and offer superior protection. Our food protectors for adults are designed to last the test of time.
Our SESTRA CARE Sippy Cup Lids
We know the importance of body hydration.
And we love our drinks.
For seniours and disabled, drinking can be challenging. The seemingly simple activity of drinking can be frustrating and difficult to manage.
With our SESTRA CARE Sippy cup lids you can turn alomost any of your favorite cups, glasses or tumblers into a spill-proof sippy cup by simply attaching the lid onto the cup of your choice (straws not included).
Benefits:
▶ our stretchable lids go over the top of your drink, sealing it tight
▶ no spillage, if the cup with the lid is accidentally knocked over
▶ great for serving hot or chilled drinks, like water, tea, coffee, milk, juice, wine and much more
▶ designed to prevent injuries, like gum and teetch injuries
▶ practical daily helper in care
▶ designed to promote independence and inclusion
▶ drinks are covered and protected from dust and insects  and perfect at the beach or at a picnics
▶ reusable and hygenic
▶ dishwasher and microwave safe
▶ made of 100% Food Grade & BPA free soft silicone