Open-back: Our adaptive garments are designed with a cross-back feature. Folds on the back fall easily into place, without the need for fastening or clips, which could harm fragile skin.
Sleeves: The careful design of sleeve width and length provides not only comfort and skin protection, but also easier access for medical treatment and personal care.
Fabric: Every adaptive garment is created with a cotton and polyester blend fabric, which conveniently holds its shape and colour, as well as being industrial dryer and washing machine friendly.
Labels: Labels are printed on the inside of each adaptive garment for useful identification, to be written with the individual's name with permanent marker. No expensive sew-on tags needed!
We are honoured to have our product on display at Independent Living Centre SA. To find out more, visit www.ilcaustralia.org.au.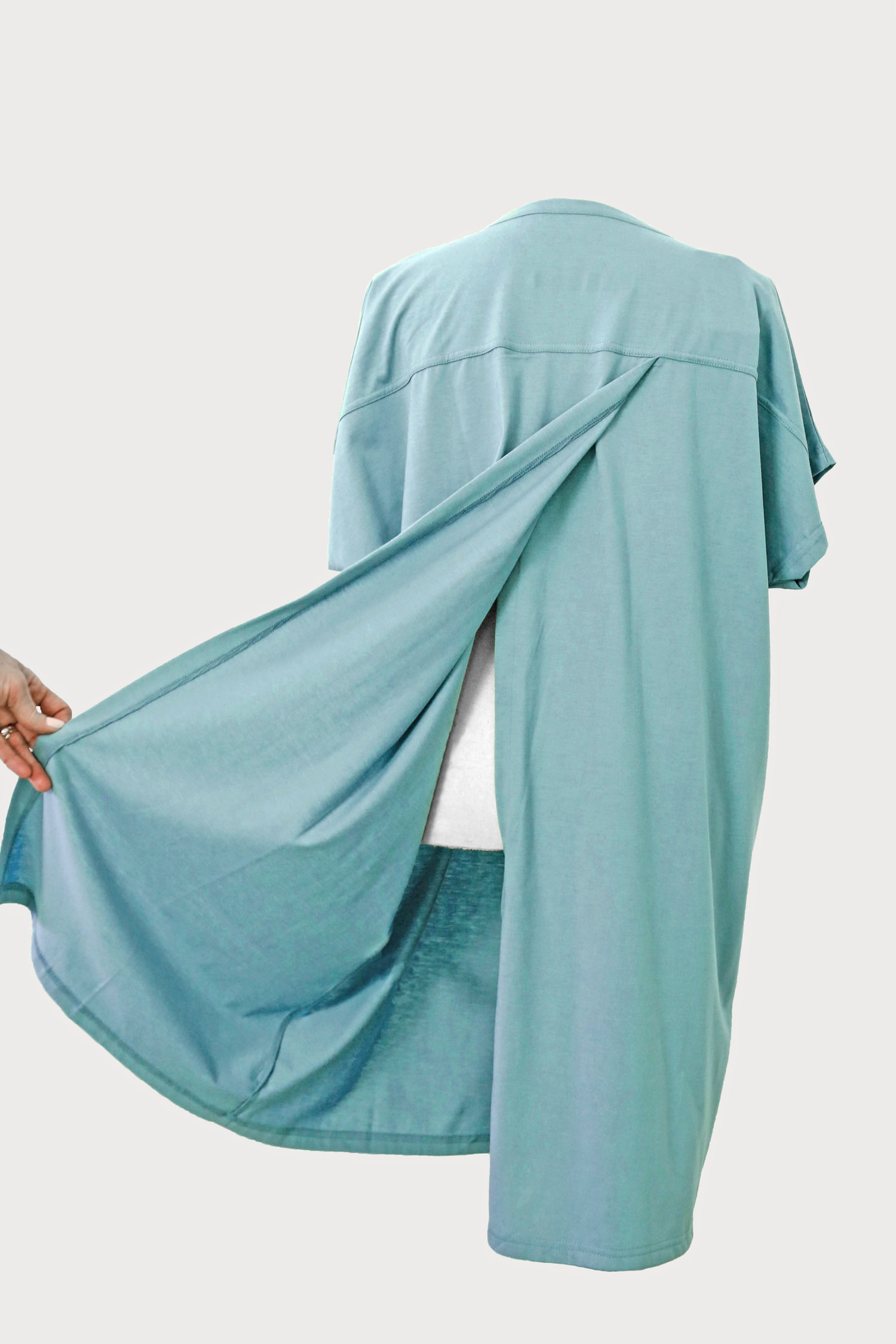 The unique cross-back design which includes a yoke and 2 cross over panels.  The yoke covers the shoulder blades and the attached cross over panels drop to provide closure to the back to the garment.  This protects our client dignity and provides them with a degree of independence in dressing themselves.  
Our sleeve width and length practical for accessing the arms and hands for care as well as medical treatment. The design protects the frail skin on the arms and elbows of clients.  
The fabrics that are used are breathable, light in weight, skin friendly, flexible with general stretch and wrinkle resistant. Our fabrics hold their colour and shape, dryer and industrial washing machines friendly.  
We have eliminated the need for any studs, buttons, Velcro or zips. Items that may cause skin and body injury's, and hard to maintain intact.  
We have chosen to print a label on the inside of the garment that can have their name written with a permanent marker for easy identification.  The families no longer need to order expensive tags that must be sewn on each new garment. 
Appropriate labelled garments prevent loss or misplacement of a clothing, having the clothing at the right place saves time and improves a dressing experience. 
Having access to these beautifully designed cross-back garments empowers individuals to maintain their independence and wellbeing.  
This product is suitable for or may be categorized as:

✓Alzheimer's

✓Arthritis

✓Senior

✓Disabled

✓Plus Size

✓Adaptive

✓ALS

✓Delicate Skin

✓Diabetes Clothing

✓Disability Clothing

✓Elderly

✓Handicap

✓Health Care

✓Home Care

✓Hospital Gowns

✓Multiple Sclerosis

✓Nursing Home

✓Open Back

✓Parkinsons

✓Patient Clothing

✓Stroke

✓Wheelchair

✓Paralysis

✓Hip Replacement

✓Seated Dressing

✓Assisted Living

✓Palliative Care

✓Hospice